Live from Brisbane, Australia.
Thursday 23rd May 6pm Central Time USA
Friday 24th May 9am AEST Australia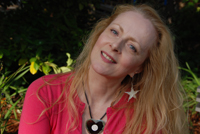 Does our learning and conditioning begin once we are born or are we already conditioned while we are still in the womb? Do events happening to our mothers' before we are born transfer to us? What is early consciousness and why do we need to listen to it? My guest this week answers these and many more questions about supporting early consciousness.
Karen Melton is a Prenatal & Birth Therapist. In her practice she both prevents and heals early trauma, working with unborn babies, babies, children, adults and parents. She is trained extensively in Prenatal and Perinatal Psychology & Health, which is the study of what happens to us from pre-conception through early infancy, and how our early development profoundly affects our foundation for life. Much of her work builds attachment, and she support parents, and other birthing professionals as a consultant.
To learn more about Karen and her work, visit: http://www.healyourearlyimprints.com
Join Karen and I as we talk about supporting early consciousness and the effects it has to living a happy and fulfilled life!
Link to Article